Our legislators have the chance to pass protections for Illinoisans on the brink of losing their homes.

Urge Illinois legislators to support legislation that will expand access to sealing eviction records and temporarily halt certain foreclosure proceedings.

The COVID-19 Emergency Housing Act will:
Create directions and requirements to ensure that people with the lowest incomes and most severe housing needs can access the $566.2 million in federal emergency rental assistance funds that will be distributed in Illinois as soon as April 2021.

Seal eviction cases filed during the COVID-19 pandemic and economic recovery period (defined as March 2020 – March 2022).

Expand opportunities to seal prior eviction records.Prohibit tenant screening companies from sharing a sealed eviction court record.

Temporarily halt certain foreclosure proceedings and filings.

Representatives will vote on the bill, HB 2877, as early as Wednesday, after which it will move to the Senate.

Speak Up  
The pandemic has only exacerbated our longstanding eviction crisis, as COVID-19 has caused unprecedented economic instability for renters across Illinois. No one should fear losing their home during these uncertain times, when housing is healthcare, just because they can't afford their rent or mortgage.

Additionally, renters should not face permanent housing barriers due to the economic fallout of COVID-19. An eviction record, including even the filing of a case, can make it much more difficult to find a home in the future.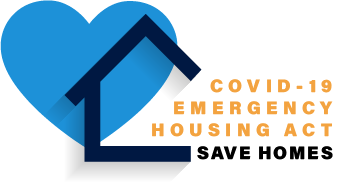 Urge legislators to support struggling Illinois renters and homeowners: Speak Up